Login to
Market Insight

Account

Your Market Insight account gives you access to the tools that we offer our customers including our
Technical Studies & Sentiment for your accounts.

Don't you have a Market Insight account? With a few easy steps you can easily register to Market Insight

Register
Thank you!
Welcome to Market Insight family!
You have succesfully completed the registration. We will send you an e-mail to give you some instructions and our Terms and Conditions!
Our account representatives will be contacting you as soon as possible. If you have any further questions please do not hesitate to
mail us via support@marketinsightprime.com
News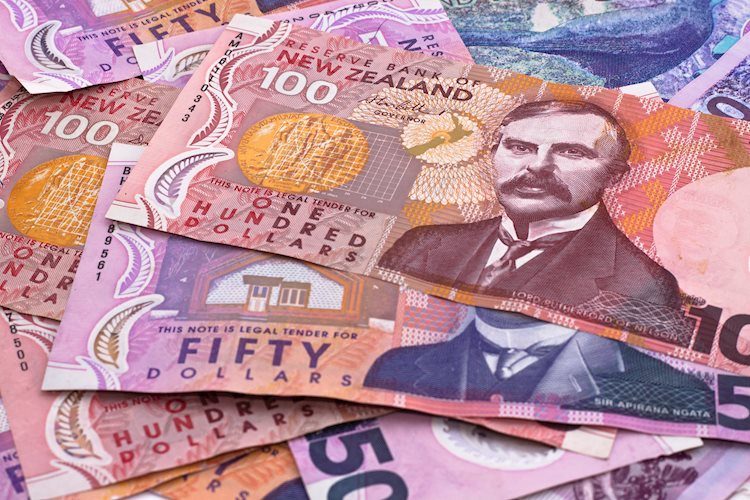 NZD/USD drops to 0.6538, after flashing a fresh session low of 0.6532, during early Wednesday.

| 11/12/2019 01:14
NZD/USD drops to session lows after rising on the New Zealand government's spending announcement.
Downbeat growth forecasts, details of spending seem to trigger the pair's pullback.
Comments from the WH Adviser Navarro also weigh on the price sentiment.
NZD/USD drops to 0.6538, after flashing a fresh session low of 0.6532, during early Wednesday. The quote recently surged to 0.6555 after the New Zealand Government announced heavy infrastructure spending. However, a closer look at the details and growth forecast join downbeat trade comments from the United States (US) White House Adviser Peter Navarro resumes the fall.
New Zealand (NZ) government's 12 billion New Zealand dollar (NZD) announcement for infrastructure spending fails to tame fears of slow growth and fresh trade war. The NZ Half-Year Economic and Fiscal Update (HYEFU) suggest that the year 2019 Gross Domestic Product will be 2.4% versus 3.2% prior. The report also cited fears from Brexit and the US-China trade war.
Additionally, comments from the White House Adviser Navvaro that it's up to the Chinese as to whether to get a deal seems to have exerted additional downside pressure on the pair.
Analysts at Westpac keep a bearish bias for NZD/USD while saying, "The Half Year update will have little impact on our economic forecasts. No new operational spending was announced, although forecast surpluses will be smaller due to the weaker starting point for the economy. $12bn of capital spending was announced, but this was spread over many years and therefore will have only a small impact on the economy."
Markets will now be on the lookout for details on the US-China trade deal while also keeping eyes on the US inflation data ahead of the last meeting of the Federal Open Market Committee (FOMC).
Technical Analysis
Monthly high near 0.6580 acts as a key resistance while sustained downpour below 200-day Simple Moving Average (SMA) of 0.6540 can drag prices to November month high of 0.6466.
Popular News
S&P 500 Price Analysis: The move higher stalled ahead of the important resistance zone at 3,167.50

The S&P 500 is on a great run at the moment and the NFP data on Thursday sent the index higher to test 3,165.00. As you can see from the chart below t

| 02/07/2020 17:31

Gold might appreciate to $2,000 by late 2021 – TDS

Gold has rallied steadily since mid-March, to reach multi-year highs near $1,800, and, according to the Commodities Strategy Team at TD Securities, th

| 02/07/2020 17:20

EUR/USD accelerates its reversal from 1.1300 and dives to 1.1225

The euro has been rejected at 1.1300 earlier today and has accelerated its reversal during the US afternoon trading session. The pair's pullback has r

| 02/07/2020 17:00

Coronavirus update US: Arizona cases rise by 3,333

The latest data from Arizona showed that the number of confirmed COVID-19 cases in the state rose by 3,333 on Thursday to 87,425. This reading followe

| 02/07/2020 16:46

Gold Price Analysis: XAU/USD strengthens and rebounds from weekly lows toward $1780

Gold is trading at daily highs, near $1780 after rising $20 from the daily low. The metal dropped to $1757 after the release of the US employment repo

| 02/07/2020 15:44

Germany's Merkel: Answer to this unprecedented crisis has to be effective

The European Union's response to the unprecedented coronavirus crisis has to be effective, German Chancellor Angela Merkel said on Thursday, as report

| 02/07/2020 16:25

AUD/USD pulls back from 0.6950, still steady above 0.6900

Australian dollar's uptrend from 0.6830 lows on Tuesday has found resistance at a one-week high 0.6950 before pulling back during the US trading sessi

| 02/07/2020 16:18

EU's von der Leyen: EU and UK still quite far apart

The European Union needs to strengthen its internal market and value chains, European Commission President Ursula von der Leyen said Thursday. Key tak

| 02/07/2020 16:04

AUD/USD: RBA to keep excess strength in check – ANZ

It has become evident that any further downside in the aussie, which was driven by global events, is set to be backstopped by highly reactive central

| 02/07/2020 15:58

USD/CAD recovers above on 1.3600 on USD strength

The USD/CAD pair struggled to make a decisive move in either direction during the early American session and continued to fluctuate in a tight range.

| 02/07/2020 15:52

US: Outsized gains in payrolls likely won't be repeated in the next few months – Wells Fargo

The US official employment report for June showed better-than-expected numbers, with a gain in jobs of 4.8 million. Analysts at Wells Fargo point out

| 02/07/2020 15:51

Coronavirus update US: Florida cases rise by more than 10,000 on Thursday

The latest data published by Florida state's health department revealed that the confirmed coronavirus cases on Thursday surged by 10,109, or 6.4%, to

| 02/07/2020 15:42

United States EIA Natural Gas Storage Change below expectations (78B) in June 26: Actual (65B)

United States EIA Natural Gas Storage Change below expectations (78B) in June 26: Actual (65B)

| 02/07/2020 14:30

EUR/GBP Price Analysis: Struggles near weekly lows, around 0.9000 mark

The EUR/GBP cross remained depressed near weekly lows, with bears eyeing a sustained break below the key 0.9000 psychological mark. The mentioned leve

| 02/07/2020 15:23

US: Factory Orders increase by 8% in May vs. 8.9% expected

New orders for manufactured goods, Factory Orders, in the US rose by $30.5 billion, or 8%, to $412.8 billion in May, the data published by the US Cens

| 02/07/2020 15:08

United States ISM-NY Business Conditions Index: 39.5 (June) vs 19.5

United States ISM-NY Business Conditions Index: 39.5 (June) vs 19.5

| 02/07/2020 14:07

United States Factory Orders (MoM) below forecasts (8.9%) in May: Actual (8%)

United States Factory Orders (MoM) below forecasts (8.9%) in May: Actual (8%)

| 02/07/2020 14:00

GBP/USD eases from tops, still well bid near 1.2500 mark

The GBP/USD pair trimmed a part of its early gains to over one-week tops, albeit has still managed to hold in the positive territory, around the key 1

| 02/07/2020 15:00

US Pres. Trump: Jobs announcement proves US economy roaring back

Commenting on the US jobs report, which showed an increase of 4.8 million in Nonfarm Payrolls in June, US President Donald Trump said that this data i

| 02/07/2020 14:58

US Dollar Index remains offered around 97.00

The US Dollar Index (DXY), which gauges the greenback vs. a bundle of its main competitors, has managed to rebound from daily lows near 96.80 and rega

| 02/07/2020 13:50

NFP: A sharp fall, a sharp rise to a lower level and then flat at best

The US economy gained 4.8 million jobs in June, beating expectations but data is from early June when the American country was reopening at a rapid pa

| 02/07/2020 14:45

S&P 500 opens sharply higher on upbeat NFP data

Wall Street's main indexes opened the day sharply higher as investors cheer the upbeat labour market data from the US. As of writing, the S&P 500 was

| 02/07/2020 13:43

Canada: Markit Manufacturing PMI jumps from 40.6 to 47.8 in June

The economic activity in Canada's manufacturing sector contracted at a much softer pace in June than it did in May with the Markit Manufacturing PMI c

| 02/07/2020 14:35

Canada Markit Manufacturing PMI up to 47.8 in June from previous 40.6

Canada Markit Manufacturing PMI up to 47.8 in June from previous 40.6

| 02/07/2020 13:30

USD/JPY refreshes session tops, around 107.70 region after NFP

The USD/JPY pair edged higher during the early North American session and refreshed daily tops, around the 107.70 region post-US monthly jobs report.

| 02/07/2020 13:11

ECB's Mersch: ECB constantly evaluating potential side effects of monetary policy measures

"Our authorisations respect and are consistent with the independence of the European Central Bank (ECB) and the Deutsche Bundesbank," European Central

| 02/07/2020 14:06

Russia Central Bank Reserves $ increased to $568.3B from previous $567.8B

Russia Central Bank Reserves $ increased to $568.3B from previous $567.8B

| 02/07/2020 13:00

Canada: International Merchandise Trade Deficit narrows to $677 million in May

Canada's International Merchandise Trade Deficit narrowed to $677 million in May from $4.3 billion in April, the data published by Statistics Canada r

| 02/07/2020 12:52

US: Trade deficit widens to $54.6 billion in May vs. $53 billion expected

The United States' international trade deficit widened to $54.6 billion in May from $49.8 billion in April, the data published jointly by the US Censu

| 02/07/2020 12:45

Gold refreshes session lows, slides below $1765 level post-NFP

Gold remained depressed through the early North American session and refreshed daily lows, around the $1763 region following the release of US monthly

| 02/07/2020 12:40
Show More Popular News