Login to
Market Insight

Account

Your Market Insight account gives you access to the tools that we offer our customers including our
Technical Studies & Sentiment for your accounts.

Don't you have a Market Insight account? With a few easy steps you can easily register to Market Insight

Register
Thank you!
Welcome to Market Insight family!
You have succesfully completed the registration. We will send you an e-mail to give you some instructions and our Terms and Conditions!
Our account representatives will be contacting you as soon as possible. If you have any further questions please do not hesitate to
mail us via support@marketinsightprime.com
News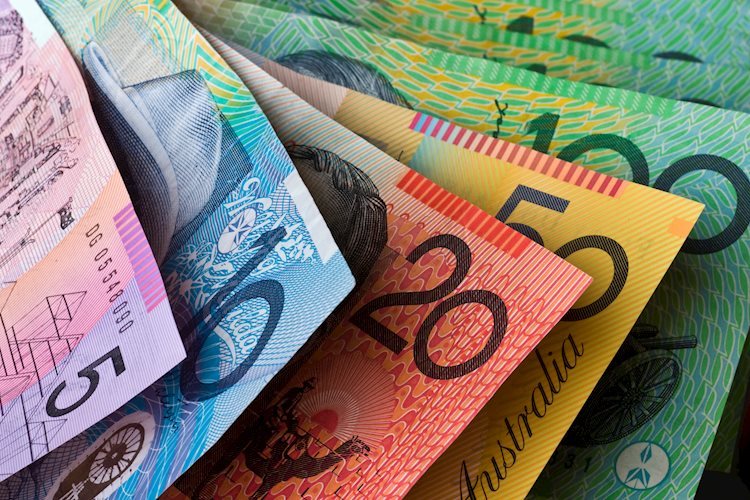 AUD/USD declines to 0.6950, still up 0.90% on a day, after Australia's Q1 GDP matched -0.3% forecasts on early Wednesday. In doing so, the Aussie pair

| 03/06/2020 01:37
AUD/USD steps back from 0.6983 as Aussie GDP shrinks 0.3% in Q1, 2020.
Bulls keep cheering broad risk-on sentiment, US dollar weakness to probe multi-day high.
US President Trump backs from federalizing the forces to tame the riots.
US data, headlines will be the key amid optimistic markets.
AUD/USD declines to 0.6950, still up 0.90% on a day, after Australia's Q1 GDP matched -0.3% forecasts on early Wednesday. In doing so, the Aussie pair steps back from the five-month high.
Australia's first quarter (Q1) GDP contracts 0.3% versus +0.5% growth the previous quarter on a QoQ basis. The YoY figures also matched 1.4% market consensus versus 2.2% prior.
Read: Aussie GDP contacts 0.3 PCT QoQ
Even so, the bulls remain hopeful amid broadly positive trading sentiment. Market's risk-on sentiment recently got a boost after Axios published the news suggesting US President Donald Trump's step back from the previous day's rhetoric to use Federal militaries to stop the protests and looting.
Also favoring the upbeat mood could be the Wal Street Journal's piece conveying the key US medical officer's cautious optimism concerning the coronavirus (COVID-19) vaccine.
As a result, the US 10-year Treasury yields gain nearly two basis points (bps) to revisit 0.70% mark whereas stocks in Asia-Pacific also cheer the positivity with green signs.
On the data/event front, Second-tier PMI data from Australia's AiG and Commonwealth Bank flashed upbeat prints. Further, RBA's Assistant Governor Michele Bullock spoke nothing relating to the monetary policy during her latest appearance.
Given the recently stellar performance of the AUD/USD pair, traders will keep checking for any negative hints to book the profits. In doing so, the heavy economic line from the US, up for publishing today, will be the key.
In this regard, TD Securities said, "Regional manufacturing surveys, as well as the Markit PMI data, have been showing some fading of weakness in May. The surveys' details have been showing more fading of weakness than the headline data due to a reversal of earlier strength in the deliveries components. Index levels have remained in contraction territory, however. We forecast a modest increase for ISM non-manufacturing to 44.0 from 41.8 in April. Separately, the May ADP employment report is likely to continue showing dramatic weakness in the labor market but to a lesser extent than in April. We forecast an above-consensus 3 million decline."
Technical analysis
Overbought RSI signals a pullback towards the early-January low near 0.6850, a break of which can recall February tops near 0.6775. However, sustained rise past-0.6900 enables the pair to aim for January 16 top near 0.6935 ahead of targeting 0.7000 round-figure.
Popular News
NZD/USD: Bulls attack three-week high above 0.6900

NZD/USD remains on the front foot around 0.6540, currently at 0.6538, amid the initial Asian session on Monday. The pair began the week's trading with

| 06/07/2020 00:31

GBP/CAD Price Analysis: 100-HMA restricts immediate downside

GBP/CAD drops to 1.6901 amid the early Asian session on Monday. The pair began the week's trading with an uptick to 1.6936 but couldn't successfully c

| 05/07/2020 23:51

US Pres.Trump: New China Virus Cases up (because of massive testing), deaths are down, "low and steady"

Early Monday morning in Asia, US President Donald Trump attacks fake media and Democratic policymakers in an attempt to promote himself for November m

| 05/07/2020 23:45

Gold Price Analysis: XAU/USD buyers can ignore soft weekly open below $1,775

Gold prices bounce off the intraday low of $1,772.67 to currently around $1,774.22 during the early Monday morning in Asia. The bullion offered a gap-

| 05/07/2020 23:26

AUD/USD: Bears trying to sneak in below 0.6950 but bulls give a healthy fight

AUD/USD kick-starts the week with a downside gap to 0.6932, currently around 0.6929, from Friday's close near 0.6942. In doing so, the aussie pair pro

| 05/07/2020 22:45

USD/JPY slightly offered in the open, eyes on coronavirus headlines

The yen has picked up a start of the week bid across the board, moving up against the US dollar by 5 pips to a low of 107.42 from high of 107.47, fall

| 05/07/2020 22:36

US Sends Two Aircraft Carriers to South China Sea for Exercises as China Holds Drills Nearby – WSJ

The Wall Street Journal has reported this weekend that the US is sending two aircraft carriers into one of Asia's hottest spots to deliver a pointed m

| 05/07/2020 20:54

White House Considers China Steps as Trump OK Awaited on Bill – Bloomberg

Bloomberg has explained that President Donald Trump has yet to sign legislation that would impose sanctions on certain Chinese officials over Hong Kon

| 05/07/2020 20:50

What you need to know for the open: Summer lull or a COVID-19 tidal wave of panic-vol?

The weekend news has been relatively benign if you exclude the coronavirus headlines. You can catch-up with the specifics of the weekend news here: Fo

| 05/07/2020 18:46

Forex Today: Dollar has no reasons to recover, for now

Here is what you need to know on Monday, July 6: A holiday in the US kept majors lifeless on Friday, exacerbating the previous range trading. The gree

| 05/07/2020 14:51

BOE's Bailey: Negative rates one of the potential tools under active review – Sunday Times

According to a story carried by the Sunday Times, the Bank of England (BOE) Governor Andrew Bailey held a meeting with heads of banks at the end of Ju

| 05/07/2020 14:31

S&P 500 Price Analysis: Key levels to watch in the week ahead – Confluence Detector

The S&P 500 Index closed the holiday-shortened week up over 3%, although off the three-week high of 3,165.81. The stocks surged on vaccine hopes and r

| 05/07/2020 08:02

Colombia Consumer Price Index (MoM) came in at -0.38% below forecasts (-0.09%) in June

Colombia Consumer Price Index (MoM) came in at -0.38% below forecasts (-0.09%) in June

| 05/07/2020 00:00

Colombia Consumer Price Index (YoY) came in at 2.19% below forecasts (2.49%) in June

Colombia Consumer Price Index (YoY) came in at 2.19% below forecasts (2.49%) in June

| 05/07/2020 00:00

ECB's Lagarde warns of disinflation as coronavirus crisis transforms economy

Speaking about alternative growth models at a webinar on Saturday, the European Central Bank (ECB) President Christine Lagarde said that a falling tre

| 04/07/2020 14:50

Gold Price Analysis: XAU/USD set to test 7-year highs amid lack of healthy resistance levels

Following consolidation in a $5 range on holiday-thinned Friday, Gold prices (XAU/USD) are poised for another leg higher after falling off the seven-y

| 04/07/2020 06:40

NZD/USD Price Analysis: Could we see an extension of the trend next week?

Despite very thin volume on Friday (US participants are off for Independence day) NZD/USD has moved higher by 0.39%. NZD/USD is a currency that perfor

| 03/07/2020 21:37

USD/JPY Price Analysis: The pair is stuck between 107.33 and 108.00 for now

USD/JPY has traded in a very thin range on Friday as volumes remain light to a US holiday. Looking at the chart below it is clear to see the pair is s

| 03/07/2020 20:19

USD/MXN to move toward 24.50 by the end of July – Rabobank

Analysts from Rabobank see the USD/MXN pair moving towards 24.50 by the end of July. They point out that seasonality shows a mixed bag for July but th

| 03/07/2020 20:07

GBP/USD crawls up to the upper range of 1.2400 to consolidate weekly gains

The pound is set to close its best performance of the last four weeks with a 1.2% weekly gain against the US dollar. The cable has crawled up to 1.247

| 03/07/2020 19:58

GBP/USD: UK government unlikely to impress the markets to fuel GBP buying – MUFG

Analysts at MUFG Bank argue the British pound will likely underperform while risk may hold up over the short-term. They recommend keeping the short GB

| 03/07/2020 19:58

USD/CHF Price Analysis: It has been a bearish week but the bears did not manage to take out the 0.9376 support

The daily chart below shows a clear bearish trend in USD/CHF. The price is now stuck near the channel low but there is a potential breakout toward the

| 03/07/2020 19:43

XAU/USD: The key for gold are yields, not USD – HSCB

Analysts at HSBC believe that the near-term driver for gold is US Treasury yields. They consider COVID-19 concerns, monetary and fiscal stimulus suppo

| 03/07/2020 19:41

USD/CAD steadies around 1.3560, looks to snap three-week winning streak

The USD/CAD pair is moving sideways below 1.3600 for the third straight day on Friday as trading conditions remain thin due to the Independence Day ho

| 03/07/2020 19:08

US Dollar Index recovery attempt from 96.80 stalls below 97.35

Greenback's rebound from one-week lows at 96.80 is lacking follow-through above the 97.00 level and the Index has stalled below 97.35. The USD recover

| 03/07/2020 19:02

USD/ZAR: Global recovery to encourage a stronger rand but domestic debt situation remains a concern – MUFG

The South African rand recovered against the US dollar in June. Analysts at MUFG Bank expect the currency to rand to continue to rise versus the green

| 03/07/2020 18:43

EUR/USD sideways near 1.1250, ends week flat

The EUR/USD pair is about to end the week hovering around 1.1240, near the same level it had seven days ago. Price action was limited on Friday due to

| 03/07/2020 17:32

EUR/GBP seen at 0.92 on a one-month view – Rabobank

The euro has pulled back against the pound this week to put an end to the three-week rally seen earlier in June. The Rabobank FX Analysis Team, howeve

| 03/07/2020 18:13

AUD/USD consolidates weekly gains near 0.6940 in choppy day

The upbeat macroeconomic data releases from Australia and China this week helped the AUD gather strength against its rivals. After starting the week n

| 03/07/2020 18:10

GBP/JPY remains flat at 134.00 after rejection from 134.70

The pound has remained trading sideways around 134.00 on Monday, with bearish attempts contained at 133.70 after Thursday's reversal from two-week hig

| 03/07/2020 17:59
Show More Popular News