Login to
Market Insight

Account

Your Market Insight account gives you access to the tools that we offer our customers including our
Technical Studies & Sentiment for your accounts.

Don't you have a Market Insight account? With a few easy steps you can easily register to Market Insight

Register
Thank you!
Welcome to Market Insight family!
You have succesfully completed the registration. We will send you an e-mail to give you some instructions and our Terms and Conditions!
Our account representatives will be contacting you as soon as possible. If you have any further questions please do not hesitate to
mail us via support@marketinsightprime.com
News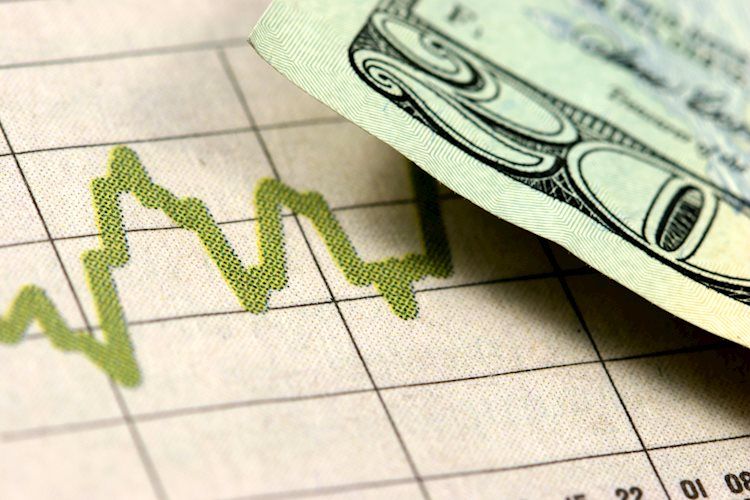 US Dollar Index Price Analysis: DXY records its largest weekly decline since 1986

| 27/03/2020 21:44
US dollar index (DXY) broke below the 99.00 figure and the 100/200 SMA on the four-hour chart.
The level to beat for bears is the 98.00 support.
DXY weekly chart chart
DXY had its worst weekly decline since April 1986 as the bearish pressure has been relentless throughout the week.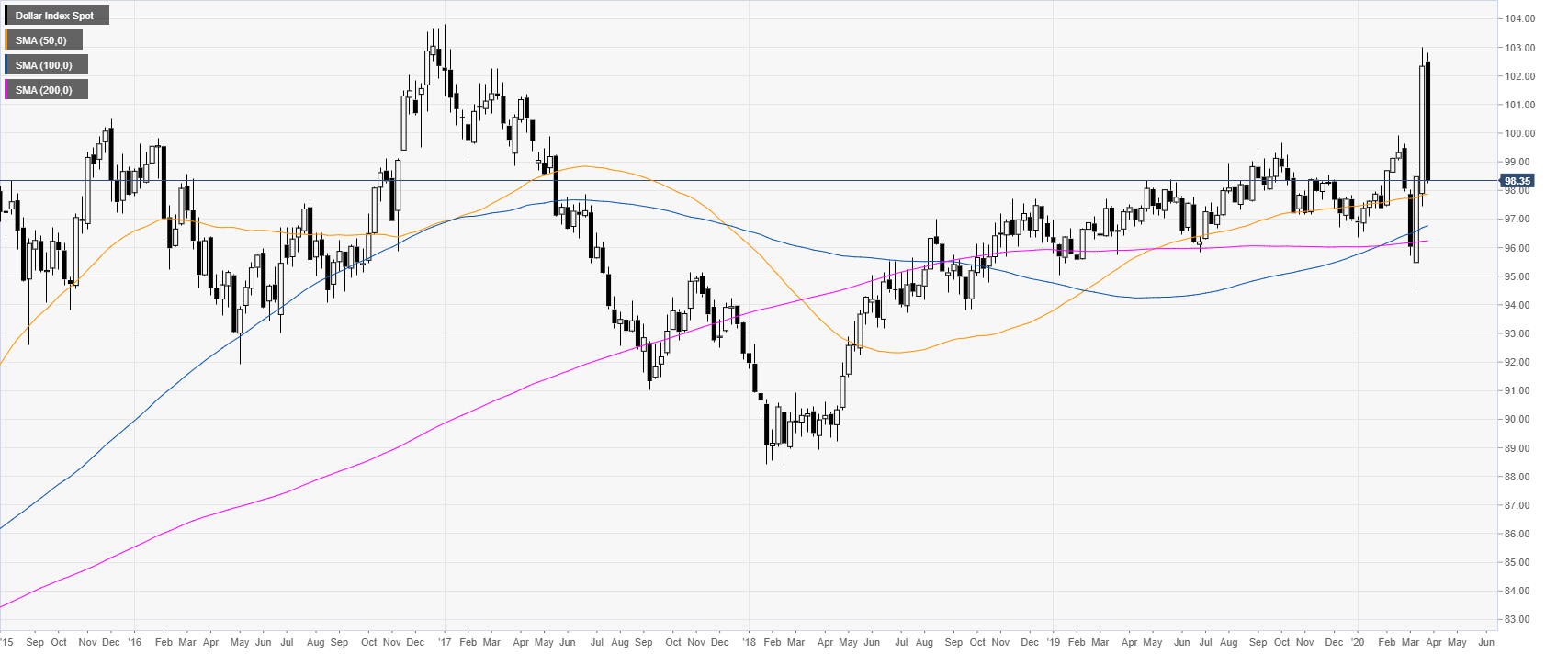 DXY daily chart
The greenback is nearing its daily 100 and 200 SMAs near the 98.00 figure. It is likely that next week DXY will challenge the above-mentioned level.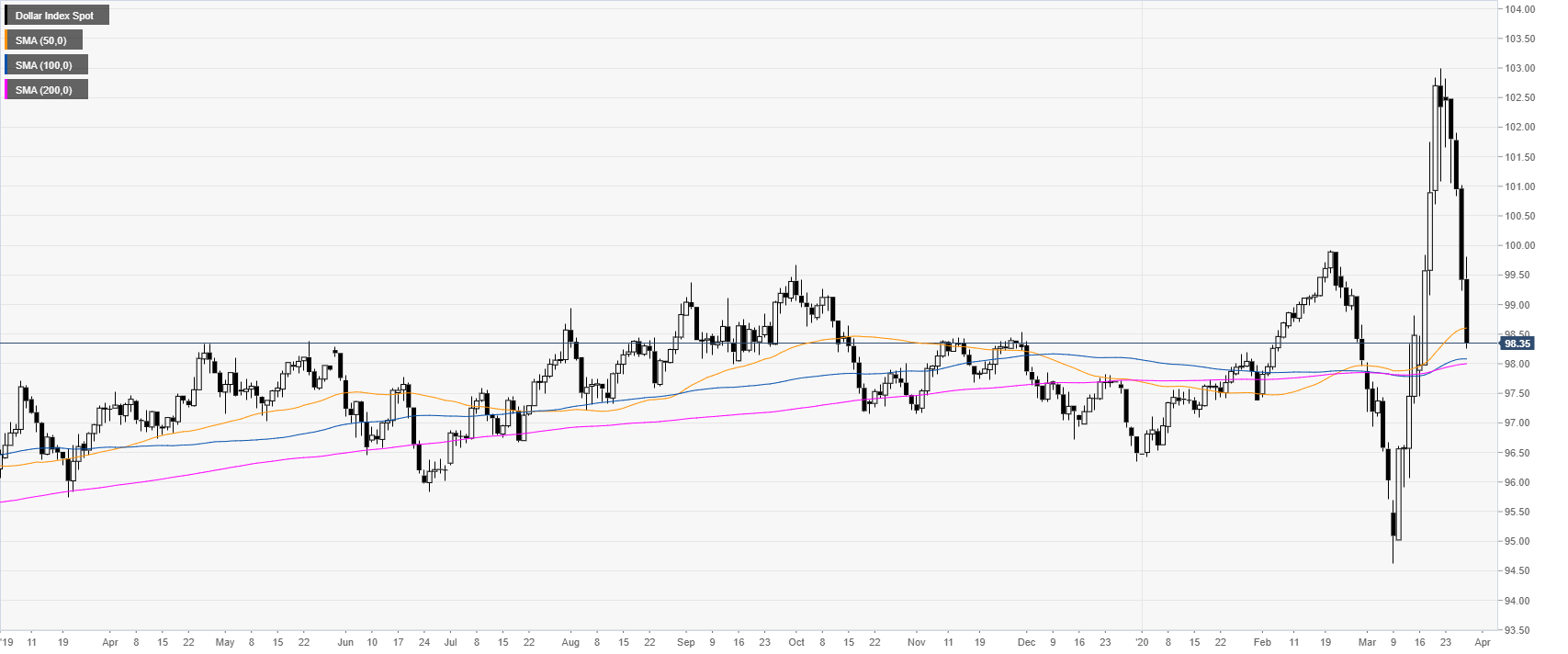 DXY four-hour chart
After an attempted bounce near the 99.00 figure near the 100/200 SMAs on the four chart, DXY broke below and reached a low of 98.25 this Friday. As the bears are in control, DXY is set to extend losses towards the 98.00, 97.00 and 96.60 levels in the medium term.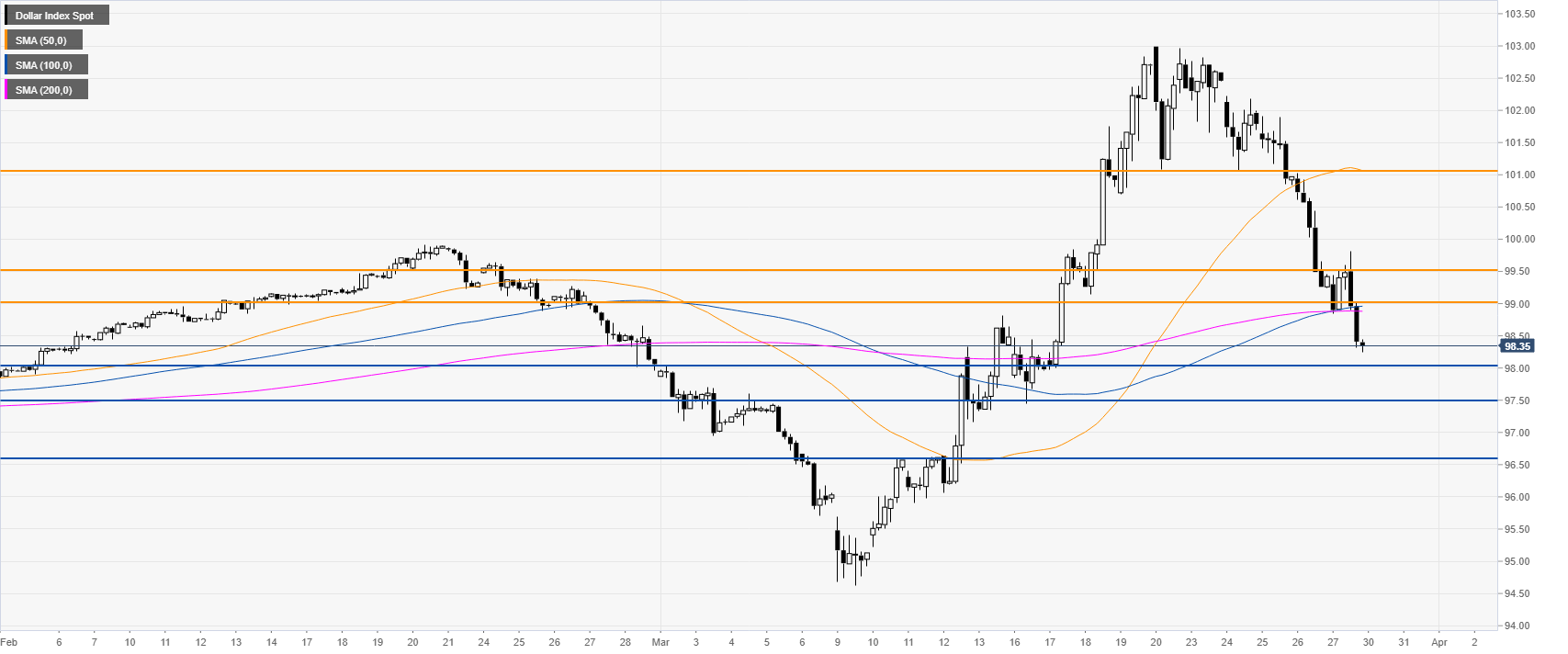 Additional key levels
Popular News
G7 finance ministers to hold a conference call about coronavirus discussions on Wednesday

According to the Japanese media outlet, Jiji, G7 finance ministers are scheduled to hold a conference call on Wednesday, with the coronavirus discussi

| 03/06/2020 04:33

AUD/USD Price Analysis: Further corrective downside likely amid bearish technical set up

AUD/USD is consolidating the sharp correction from five-month tops of 0.6983 reached in early Asia, as the bears await a fresh catalyst for the next p

| 03/06/2020 04:31

USD/ZAR Price Analysis: Bears cheer break of short-term support line to attack 17.00

USD/ZAR prints three-day losing streak while declining to 17.10, the lowest since March 19, during the early Wednesday. The pair broke an ascending tr

| 03/06/2020 04:24

USD/JPY consolidates around mid-108s after a sharp 40-pips drop

USD/JPY is consolidating a sharp correction from two-month highs of 108.85, as the bears lick wounds around the midpoint of the 108 handle. The spot,

| 03/06/2020 03:56

Australian Treasurer Frydenberg: Health measures to contain coronavirus have come at considerable cost

Australian Treasurer Josh Frydenberg is out on the wires now, via Reuters, expressing his take on the country's Q1 growth report. Key quotes "Health m

| 03/06/2020 02:31

WTI Price Analysis: Aims to fill the early-March gap above $41.00

WTI gains over 2.0% while taking the bids near $37.77 during the early Wednesday. In doing so, the black gold crosses the March 11 top of $36.64 while

| 03/06/2020 03:19

NZD/USD Price Analysis: Buying spree towards 0.6450 pauses despite upbeat China data

NZD/USD recedes from the March month top to 0.6415 but remains 0.77% up on a day, even after China's Caixin Services PMI rose in May. The data publish

| 03/06/2020 02:54

China Caixin Services PMI for May bunces back to growth, highest since late 2010 55.0 vs 44.4 in April

(Reuters) - China's services sector returned to growth last month for the first time since January as the economy recovers from strict coronavirus-ind

| 03/06/2020 01:47

China Caixin Services PMI above expectations (50.3) in May: Actual (55)

China Caixin Services PMI above expectations (50.3) in May: Actual (55)

| 03/06/2020 01:47

BOJ to double financial aid for small businesses hit by coronavirus pandemic – Jiji

The Japanese media outlet, Jiji Press, reported on Wednesday, the Bank of Japan (BOJ) is considering doubling its financial aid to the small businesse

| 03/06/2020 01:44

AUD/USD drops 25+ pips, eases from five-month top, after Australia's Q1 GDP

AUD/USD declines to 0.6950, still up 0.90% on a day, after Australia's Q1 GDP matched -0.3% forecasts on early Wednesday. In doing so, the Aussie pair

| 03/06/2020 01:37

Australia Building Permits (YoY) increased to 5.7% in April from previous 0.2%

Australia Building Permits (YoY) increased to 5.7% in April from previous 0.2%

| 03/06/2020 01:34

Aussie GDP Q1 contracts 0.3% QoQ, as expected

After the RBA left rates unchanged at record lows, monetary policy to remain accommodative, today's data has just arrived in the form of Gross Domesti

| 03/06/2020 01:31

Australia Gross Domestic Product (QoQ) in line with expectations (-0.3%) in 1Q

Australia Gross Domestic Product (QoQ) in line with expectations (-0.3%) in 1Q

| 03/06/2020 01:30

Australia Gross Domestic Product (YoY) meets expectations (1.4%) in 1Q

Australia Gross Domestic Product (YoY) meets expectations (1.4%) in 1Q

| 03/06/2020 01:30

Australia Building Permits (MoM) came in at -1.8%, above expectations (-15%) in April

Australia Building Permits (MoM) came in at -1.8%, above expectations (-15%) in April

| 03/06/2020 01:30

PBOC sets the Yuan reference rate 7.1074 on Wednesday

On Wednesday, the People's Bank of China (PBOC) set the Yuan midpoint rate at 7.1074 vs. Monday's 7.1167. The Chinese central bank skipped the Open M

| 03/06/2020 02:26

USD/CAD Price Analysis: Drops to fill the 13-week-old gap below 1.3500

USD/CAD stands on a slippery ground while declining to 1.3480, down 0.26% on a day, during the Asian session on Wednesday. While declining to the lowe

| 03/06/2020 02:16

RBA's Bullock speech: Nothing on MP, says COVID-19 has accelerated shift from cash to electronic payments

RBA's Bullock's speech says nothing on monetary policy. Key notes RESERVE BANK OF AUSTRALIA ASSISTANT GOV BULLOCK SAYS COVID-19 HAS ACCELERATED SHIFT

| 03/06/2020 01:12

Gold Price Analysis: XAU/USD extends losses below $1,730 amid broad risk-on sentiment

Gold prices drop to $1,725.96, down 0.12% on a day, amid the Asian session on Wednesday. Recent market optimism seems to have weighed on the precious

| 03/06/2020 02:03

EUR/USD Price Analysis: Buyers probe three-week-old resistance line near 1.1200

EUR/USD rises to 1.1197, up 0.25% on a day, amid the Asian session on Wednesday. That said, the pair trades near the highest levels since March 16, wh

| 03/06/2020 01:48

Hong Kong SAR Nikkei Manufacturing PMI below expectations (45.6) in May: Actual (43.9)

Hong Kong SAR Nikkei Manufacturing PMI below expectations (45.6) in May: Actual (43.9)

| 03/06/2020 00:33

When is the Aussie Q1 GDP release and how could it affect the AUD/USD?

Global markets are now gearing up for Australia's first-quarter (Q1) Gross Domestic Product (GDP) figures, up for publishing at 01:30 GMT on Wednesday

| 03/06/2020 01:33

Japan Jibun Bank Services PMI: 26.5 (May) vs 21.5

Japan Jibun Bank Services PMI: 26.5 (May) vs 21.5

| 03/06/2020 00:32

Will Hainan's free trade port replace HK?– Global Times

The Global Times is out with a piece that notes how China on Monday unveiled a "megaproject to build its largest-yet special economic zone in South Ch

| 03/06/2020 01:25

AUD/USD: Bulls keep the reins above 0.6900 ahead of Aussie Q1 GDP

AUD/USD rises to 0.6915, intraday high of 0.6923, amid the recently high risk-on mood in the market during Wednesday's Asian session. In doing so, the

| 03/06/2020 00:12

Nissan: UK factory still under threat from no-deal Brexit – BBC

The BBC reports that the UK's largest car manufacturing plant is "unsustainable" if the UK leaves the European Union without a trade deal, owner Nissa

| 03/06/2020 00:50

GBP/USD Price Analysis: Refreshes five-week high above 1.2550, eyes 200-day SMA

GBP/USD takes the bids to an intraday high of 1.2581 during the early Asian session on Wednesday. In doing so, the Cable surges to the highest since A

| 02/06/2020 23:49

Trump administration putting trust in global oil producers ahead of OPEC+ meet – Reuters

Reuters reports that the Trump administration "believes ahead of an expected OPEC+ meeting this week that major oil producers such as Saudi Arabia and

| 03/06/2020 00:32

NZD/USD awaits fresh catalysts around three-month top beyond 0.6350

NZD/USD retraces from 0.6374, highest since March, to 0.6365 by the press time of early Asian session on Wednesday. While the kiwi pair's earlier run-

| 03/06/2020 00:29
Show More Popular News